©1998-2013 Maria Helena Rowell

Video
|Psychoanalysis| |Directors| |Arts| |Miscellaneous|






Sigmund Freud - Biography
1997 - VHS


Sigmund Freud didn't intend to get into the field of psychiatry. His dream was to be a research scientist, but because of Jewish quotas he wasn't permitted to enter into the field of study. So he became a doctor specializing in nervous diseases, because at the time that's where the money was and he desperately wanted the cash so he could marry his fiancée. A&E's Biography: Sigmund Freud is an illuminating look at the man who changed the way the world viewed sexuality and who gave us "the talking cure," better known today as psychoanalysis. Through photographs, interviews with psychoanalytic experts and Freud's grandchildren, and even with a brief recording that Freud himself made, we gain a glimpse into the life of this complex man, from his childhood in Vienna to his escape to London during World War II. His life was full of contradictions: he delved into self-analysis, but never looked at his addiction to cigars; he was an early advocate of cocaine, causing a close friend to become addicted; he demanded complete loyalty from his protégés, causing a serious rift in his relationship with Carl Jung. This installment of the Biography series is a worthy addition, providing an enjoyable and educational look at "the doctor of love." --Jenny Brown (Amazon.com)


---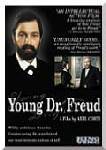 Young Dr. Freud: a film by Axel Corti
2002 - DVD


This film examines the life of the father of psychoanalysis through the lens of his own ground-breaking theories. Questioning the character of Sigmund Freud at integral points in his development, director Axel Corti and screenwriter Georg Stephan Troller invert the psychoanalytic model and place the analyst in the position of analysand. Germany, 1976, B&W, German w/English subtitles. 98 mins.


---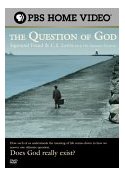 The question of God - Sigmund Freud and C.S.Lewis
2004 - VHS & DVD


Plot Synopsis: The Question of God: C.S. Lewis & Sigmund Freud is a four-hour series for public television that explores the fundamental philosophical and spiritual questions that face us every day. The series frames these questions in the context of the lives of C.S. Lewis and Sigmund Freud, two remarkable men with sharply divergent worldviews. Inspired by a course taught at Harvard University by Dr. Armand Nicholi, the series challenges and inspires viewers to find their own answer to The Question of God. (Amazon.com)


---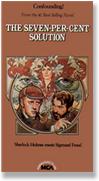 The Seven-Per-cent Solution
1976 - VHS


Writer Nicholas Meyer (who went on to write two of the best Star Trek films) made his bones with his adaptation of his bestselling novel, directed by Herbert Ross.Fanciful and entertaining, it imagines what might have happened had Dr. Watson (Robert Duvall) convinced Sherlock Holmes (Nicol Williamson) to seek a cure for his cocaine addiction from Dr. Sigmund Freud (Alan Arkin). This meeting of the minds takes a turn into adventure when Holmes and Freud team up to solve a kidnapping mystery. Arkin is intriguingly likable as Freud, while Williamson makes a keen and frenetic Holmes. Duvall is almost unrecognizable as the avuncular, phlegmatic Watson. Laurence Olivier turns up as Professor Moriarty, who is hardly the criminal mastermind that the drug-deluded Holmes believes. --Marshall Fine (Amazon.com) - Film Review by Patrick F. Bassett, PSYCHOCULTURAL REVIEW / Summer 1977


---



The Secret Diary of Sigmund Freud
1984 - VHS


Dreary comedy about the early life of Freud (Cort), with Baker his mother, Kinski a doctor she becomes involved with, and Kane a nurse with a lisp. Pretty boring, even annoying at times. Copyright© Leonard Maltin, 1998, used by arrangement with Signet, a division of Penguin Putnam, Inc.




---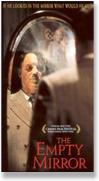 The Empty Mirror
1999 - VHS


Set within a world where Hitler and his closest cadre of followers survived, this speculative psychodrama attempts to explore the dark, twisted mind of the mad ruler as he converses with Eva Braun, Hermann Goering, Josef Goebbels, and Sigmund Freud. It is a decidedly minimalist film set in a secret subterranean bunker where Hitler spends endless hours watching films of his best years flicker over his blueprints for the new Berlin. Though he lost the war, Hitler still believes himself successful in becoming an immortal figure. His conversations add insight to his grand schemes, his obsession with blondes, and his moral justification for genocide. At Freud's prompting, Hitler also looks into his own neurosis and fears. -- Sandra Brennan, All Movie Guide
Video
|Psychoanalysis| |Directors| |Arts| |Miscellaneous|

Back to Bookstore/Index